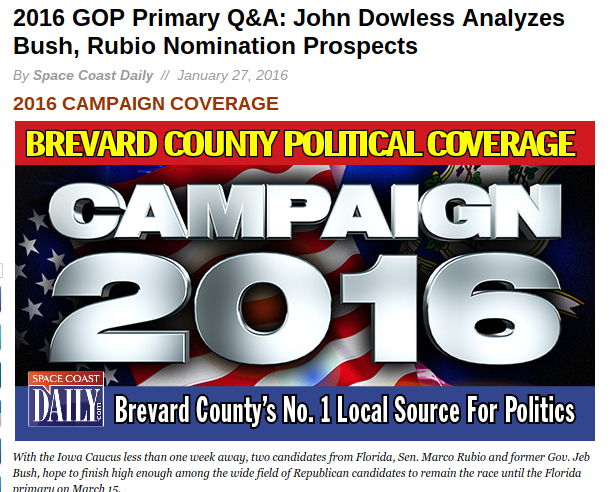 EDITOR'S NOTE: With the Iowa Caucus less than one week away, two candidates from Florida, Sen. Marco Rubio and former Gov. Jeb Bush, hope to finish high enough among the wide field of Republican candidates to remain the race until the Florida primary on March 15.  Orlando-based Republican media campaign consultant John Dowless took the time for a Q&A with Space Coast Daily regarding his opinions and predictions on Bush and Rubio's respective prospects and strategies in the GOP primary election.
Dowless is a native Floridian with years of experience in Florida elections that includes two presidential campaigns, a United States Senate race and multiple state legislative races. Space Coast Daily welcomes all readers to contribute their thoughts on the 2016 election by emailing [email protected]
Jeb's recent surge appears to have ebbed but he is still battling for top-half finish New Hampshire, where Rubio is  vying for a top-3 finish. Between Bush and Rubio, has the best chance to finish in the top 2 or 3 in New Hampshire?
DOWLESS: Rubio definitely has the best chance of finishing in the top two or three in New Hampshire, especially if he exceeds expectations in Iowa.
Rubio doesn't have to win Iowa, just finish strong and exceed polling data. If Rubio does that, I believe many New Hampshire voters will jump to Rubio if they're looking for an alternative to Cruz or Trump.
To see the full article, visit the Space Coast Daily article HERE.