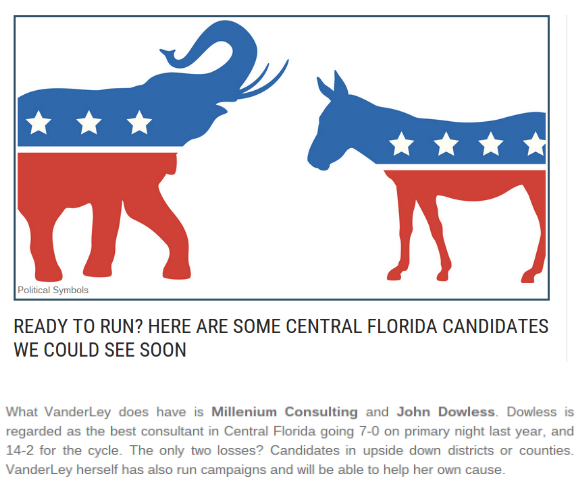 In a Florida Politics article about candidates in intriguing races, John Dowless was described as an asset for Orange County Commission Candidate Betsy Vanderlay. Below is an excerpt from the article: "Ready to run?" Cent. FL Candidates we could see soon."
Bobby Olszewski in Orange County Commission District 1: The well known Winter Garden Commissioner could jump into the race in the coming weeks, and would join Project Development Manager Betsy VanderLey in the contest to replace termed out incumbent Scott Boyd in West Orange County.
"Bobby O" will be an immediate factor in the race and has been relationship building in the district for years. He's a hard worker and one of the best retail lawmakers in the area. He'll be able to skip the "getting to know" you phase and start picking up supporters and donors right away. VanderLey does have some connections with developers and the chamber, but not as extensive as Olszewski's.
What VanderLey does have is Millenium Consulting, and John Dowless. Dowless is regarded as the best consultant in Central Florida, going 7-0 on primary night last year, and 14-2 for the cycle. The only two losses? Candidates in upside down districts or counties. VanderLey herself has also run campaigns and will be able to help her own cause.